Rev. Michael will be on Sabbatical from February 1 through May 31, 2023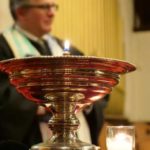 The Reverend Michael F. Hall has been the settled minister at the Keene Unitarian Universalist Church since the summer of 2012. From the outset, Rev. Michael (or just plain Michael, if you'd rather) has sought to build a "Multigenerational Culture," by creating an atmosphere where each generation is equally engaged, included and reverenced for its unique and timeless contributions to our unified community.
Among his most treasured memories of congregational life in Keene are the beautiful, poignant community vigil in 2016 to honor the memory of the 49 lives lost in the horrible violence at the Pulse nightclub in Orlando, Florida; the joy-filled service the church put on when he was installed as its 23rd settled minister on St. Patrick's Day 2013—what a celebration, complete a jazz combo and chocolate fountain; and the annual process he shares with lay-leaders in creating the innovative, whole-church experience known at KUUC as "Month of Sundays." During his time in Keene, Rev. Hall has also served as chair of the Keene Interfaith Clergy, the United Campus Ministry to Keene State College and was a member of the City of Keene's Martin Luther King/Jonathan Daniels Committee (now the Human Rights Committee). Michael was honored to participate in the presentation, "Learn, Love, Act: The Morals of the Minimum Wage" at the Unitarian Universalist Association General Assembly in Providence, RI in 2014.
Rev. Michael took his first sabbatical in 2018 which he spent studying historical Universalism in the Monadnock Region. His sabbatical also emphasized contemplative practices and building a model for spirituality centered in the captivating, restorative powers of Nature. He went on to deepen his own contemplative practice as part of the first class of the Genesis School for Contemplative Living in Westfield, Massachusetts. Rev. Hall looks forward to his second sabbatical which will take place in the spring of 2023
Michael is a native of the Bay State. His first career was in "living history" at a well-known museum in Plymouth, MA, where he portrayed many of the so-called "Pilgrims," and trained newcomers in the art and craft of historical "interpretation". He also spent several years as a Case Manager on the Dual Diagnosis Unit of detox where, among other duties, he developed spirituality-based group therapy sessions. He lives in Keene with his wife Jill and two of their children.
SHARING MINISTRY
Faith is not the clinging to a shrine but an endless pilgrimage of the heart. Audacious longing, burning songs, daring thoughts, an impulse overwhelming the heart, usurping the mind–these are all a drive towards serving Him who rings our hearts like a bell. It is as if He were waiting to enter our empty, perishing lives.  ~Abraham Joshua Heschel
I would like to say that I know perfectly well what is going to happen to me on sabbatical. But whatever good would knowing that do for me. If it were so pre- packaged, so safe, how would that benefit you? If I knew what to expect at every place I stopped, if every street was paved brand new before me, and each crossroad held out no choice, challenge nor question, no gain nor loss, what kind of pilgrimage would that be?
And it is a pilgrimage I want from the time that I am away—something that I would never have expected, never have bargained for, in short, something that transforms me. I don't need to be swept away by a gang of pirates, meet the Dalai Lama or walk on hot coals; it isn't that. I will mostly be reading in libraries, visiting historical places, creating things for the joy of it, writing new things for worship, planning adventures and spending some real time with my family. I also want to write forms of writing that I have put aside, and be prepared for our 200th anniversary.
What I need most is to just open my heart wide to the world: so I can see what of importance is still hiding in there, and find room for who and what needs my time, love and shelter.
I hope your sabbatical is good too, and that when we meet each other on June 1st it is with arms open joyfully, all handshakes and hugs, and no doubt many stories— some that are almost too hard to believe.
Yours in the Faith and Service,
Rev. Michael
Worship: 10:00 AM Sunday Mornings
The service will be live-streamed on YouTube at 10:00 Sunday Mornings. KUUC is a Welcoming congregation.
Contact Sue Walthour, Office Manager
email:  / phone: (603) 352-1719
To inquire about facility rental, contact Sue Walthour, Office Manager
email:  / phone: (603) 352-1719
Anyone wishing to contact the Office Manager should send an email to and your message will be returned within 24 hours.
Mailing Address:
Keene Unitarian Universalist Church,
69 Washington Street, Keene, NH 03431
603-352-1719