Welcome to Mallory Hicks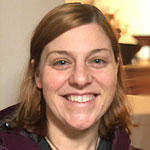 I'm so excited to be filling the role of Religious Exploration Coordinator (REC). I grew up in a family of UUs, I'm a 3rd generation which is rarer on the west coast where I was raised than it is here. I always say I was raised by UUs, as most of my childhood wasn't spent in church weekly; but the 7 principles were our core.
My grandparents and extended family have always been incredibly active in the church. My husband Lewis , as many of you know, is active duty in the USN (retiring next year yay!) and we have 3 kids, Atticus (11) Remington (9 on Halloween) and Oliver (3) When in Keene, we landed we knew that we wanted to get involved with the church right away, having 3 kids that needed a good steady community. We participated in the outdoor RE gatherings over the winter and into spring and summer. They were so important to us and beneficial to our children.
I really feel we've found a home, after so many years of moving from town to town, state to state, and twice across the country with littles in tow. the RE program I cannot wait to see how grows and how as a community and congregation we can come together to provide a safe and exciting place for all of our children to explore their world and learn our principles.
Mallory Hicks
GREETINGS FROM RE April 2023:
Spring is the time for earth's renewal. I don't know about you, but I feel it in my own soul and bones as well. I'm a LOVER of winter, but there is an internal shift for me when I see the first crocus pop through, my first outdoor run in temps above 40 degrees when I can take my sweatshirt off half way through and feel the sun warm on my skin. I just love it.
As many of us will be preparing for the upcoming spring holidays and celebratory events, as we start organizing egg dying, planning gardens, maybe even gathering with loved ones for the first time or as one of the few times, let us remember to find moments together and individually to acknowledge the rebirth of our earth and our own internal renewals. May we find moments to pause and reflect on our personal and spiritual rituals and needs.
As for RE this month I'd really like to get the kids out in the world, or at least our front yard. During RE time and other days of the week (TBA) I'd like to invite children and families (and anyone else) to meet in our children's garden, located out front and stage right to the main doors of Washington street. We will get our hands in the dirt as we continue to get 'back to basics' becoming acquainted or reacquainted with our principles.
We had an amazing time learning with Clay in March and I cannot wait to get another one scheduled. I hope you all can join us.
RE HAPPENINGS
April 2nd – Start in Sanctuary; move to RE
April 9th – Easter Sunday in Sanctuary. Come enjoy the service and stay for a fun coffee hour activity for the entire congregation!
April 15th – 'Forest Bathing' hiking, communing with nature. Call it what you want, but we gather at Distant Hill Nature Trail in Alstead, NH at 10:30. Betsy Stacey will take us on an adventure walk in nature!
April 16th – Earth Day service in Sanctuary
April 23rd – In Sanctuary no RE today
April 30th – BLOCKS beginning in Block Room at 10:00 am P. 4 **Also collecting donations of flower seeds for future spring activities. There will be a box in PH for the collection! Thank you!
You can email me at or call/text (540)849-7550 Mallory
UU History – Explore More!
During the August 9, 2021 worship service, I shared the episode in UU History that is often called "the Empowerment Controversy." I learned about this period, roughly 1967-1970, during the online Unitarian Universalist History course I took this summer. Here is a list of resources I used while preparing this service. When available, links to purchase through in Spirit, the UUA's bookstore, are provided. Starred works are required texts for the course and are easy to read, informative and highly recommended.
** Morrison-Reed, Mark. Darkening the Doorways: Black Trailblazers and Missed Opportunities in Unitarian Universalism. Skinner House Books, 2011.
Morrison-Reed, Mark and Jacqui James, editors. Been in the Storm So Long. Skinner House Books, 1991.
Carpenter, Victor H. Long Challenge: The Empowerment Controversy (1967-1977). Meadville Lombard Theological School Press, 2003.
Morrison-Reed, Mark. Black Pioneers in a White Congregation. 3rd ed., Skinner House Books, 1994.
Ross, Warren R. The Premise and The Promise: The Story of the Unitarian Universalist Association. Skinner House Books, 2001.
** Peterson, Polly. Stirring the Nation's Heart: Eighteen Stories of Prophetic Unitarians and Universalists of the Nineteenth Century. Unitarian Universalist Association, 2010.
** Peterson, Polly and Gail Forsyth-Vail. Missionaries, Builders, and Pathfinders: Unitarian and Universalist Stories from the Midwest, West, and South, 1830-1930. Unitarian Universalist Association, 2014.
As I mentioned in my reflection, to me an essential take-away about the Empowerment Controversy is that Unitarian Universalists keep trying to improve. Tangible proof is the recently released volume (also available in its entirety online) Widening the Circle of Concern: Report of the UUA Commission on Institutional Change. Unitarian Universalist Association, 2020.  From the back cover: This report "represents the culmination of the Commission's work analyzing structural and systemic racism and white supremacy culture within Unitarian Universalism and makes recommendations to advance long-term cultural and institutional change that redeems the essential promise and ideals of Unitarian Universalism."
Click the link above to go to the home page for BLUU, an organization "committed to: expanding the power and capacity of Black UUs within our faith; providing support, information & resources for Black Unitarian Universalists; justice making and liberation through our faith." (from BLUU's home page). Click here to go to the donate page.
Resources for talking about race in your family
This blog post by "strivingshannon" cites a recent survey that only 6% of well-meaning white parents talk to their kids about race "often". The author lists the top 5 reasons (from her work with parents in Atlanta) why this is so. Among the reasons she listed the one that resonates most with me is "fear of getting it wrong." Her response to this is "you will." Which is why we need to keep educating ourselves, growing in our understanding, recommitting to the work, and trying again. I encourage you to read her whole post. Here are some resources from the UUA and BLUU (Black Lives of UU) to help you educate yourself, recommit to the work, and talk to your kids.
2015 article, Talk about Race: Starting the Conversation, by Aisha Hauser, MSW and long-time religious educator.
Race, Class and other Complexities resource list, from the "Growing Young Justice-Makers" section of the UUA website.
Family Discussion Suggestions: Identity and Race
Our Whole Lives
Our Whole Lives (O.W.L.) is the values-based lifespan sexuality education curricula developed jointly by the UUA and UCC (United Church of Christ)*. In recent years KUUC has offered the segment designed for youth in grades 7-9 (or homeschool equivalent) in alternate years and so that means we probably won't offer that curriculum until 23-24. In the meantime, we will also need to get some new facilitators trained up—which is in itself a two-day commitment.
Participant meetings are traditionally held on Sunday afternoons; the actual schedule is flexible and will be determined with input from the facilitators.
Description from the UUA website: "Honest, accurate information about sexuality changes lives. It dismantles stereotypes and assumptions, builds self-acceptance and self-esteem, fosters healthy relationships, improves decision making, and has the potential to save lives." (www.uua.org/re/owl) If you feel called to serve your community by facilitating this program, please contact Rev Michael, or Barbara Bryce (RE Committee chair). If you'd like more information before deciding, please check out the UUA O.W.L. info page.
For the time being, please contact Rev. Michael ()  with questions, for more information or to be added to the preliminary registration list. This class fills quickly.
*while the program was developed by two religious denominations, the curriculum is secular – no doctrine or dogma is included, just honest, factual information and the core values of self-worth, sexual health, responsibility and justice and inclusivity.